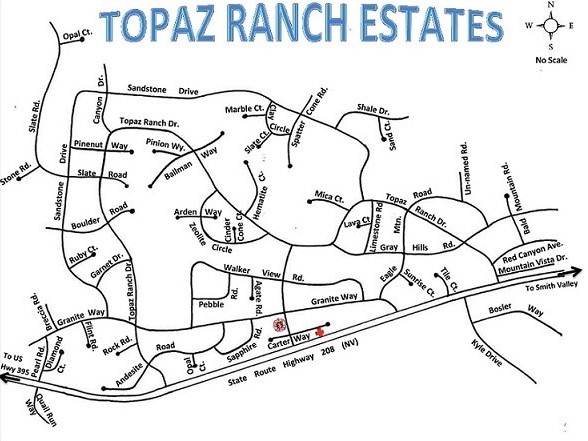 Topaz Ranch Estates is located near Topaz Lake on Highway 208 in southern Douglas County, approximately 17 miles south of Gardnerville and 6 miles west of Wellington. Topaz Ranch Estates is a rural development of homes on primarily 2-acre or larger lots.
Currently there are approximately 873 parcels, 750 water meters, and 27 miles of Road surface that are included in our District Area.
---
TRE GID MISSION STATEMENT
To provide courteous and quality service, while maintaining the community's infrastructure (Wells, Storage Tanks, Water Mains, Roadway Drainage, Streets and Traffic Control Devices).
---
We here at the Topaz Ranch Estates General Improvement District are dedicated to providing the best possible service to our customers and community. The TRE GID is governed by a 5 panel Board of Trustees. Each Trustee is usually voted in by the community and serves a four year term. The Board of Trustees meet on the second Wednesday of each month at the Topaz Ranch Estates Community Center at 6:00 p.m.; the public is strongly encouraged to attend these meetings to stay abreast of the happenings of the Water and Roads here in the Topaz Ranch Estates.